Free Air Duct Disinfecting through 
APRIL
​when you schedule your air duct cleaning

Benefect has been tested and does kill the COVID 19 Virus.
In the search box on the link 
Just type in "
benefect"
​ 

Disinfecting air ducts

"Application"
Comparing the old fogger with our new SaniJet System 
Don't waste your money with  the old FOGGER

​This is how you disinfect air ducts. 
Comet has by far the best system for heat and cooling vent sanitizing in Billings, Mt. and surrounding areas.
With our new Patent Pending System for disinfecting air ducts combined with the 100% all-natural disinfectant, certified for hospital use, has created a FIRESTORM of interest in Comet Air Duct Cleaning.
 
Absolutely nothing on the market, can compare to our 

SANIJET 
Sanitizing System!!

The patented design is by far the most effective method of sanitizing air ducts to date.  

SaniJet by RamAir International FINALLY, a modern system for sanitizing ducts has evolved. For decades, the only method for applying disinfectant to the inside of a duct system required blasting a chemical agent through the ducts, (Fogger)resulting in most of the chemical fog flooding the inside of the home, coating the carpet, walls, countertops, beds, clothes, family pets… the entire interior of the dwelling.

RamAir's patent-pending SaniJet solves this problem- coating the duct walls thoroughly and evenly, with 100% of the disinfectant going where it should, 0% where it shouldn't.  

Heat system cleaning and disinfecting using Comets RamAir duct cleaning system and the Patent Pending SaniJet disinfecting system Puts us #1, the best in our community.  Best Cleaning and Disinfecting System, Best Disinfectant, And Best Prices!
​

"The Product"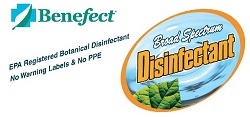 The World's Only Authentically Botanical Disinfectant
 .
Benefect ® Botanical Disinfectant  Solution
Lemon & Spice Scent
ANTIMICROBIAL  HOSPITAL DISINFECTANT  DEODORIZER  DECONTAMINANT ‡Virucidal  Bactericidal  Fungicidal  Tuberculocidal in 5 minutes 
*The patented technology is proven to kill over 99.99% of bacteria (specifically, MRSA (Methicillin-Resistant Staphylococcus aureus), Salmonellaenterica, Staphylococcus aureus, Pseudomonas
aeruginosa
& Mycobacterium
bovis
(TB); & fungi (specifically Trichophyton
mentagrophytes
& HIV-1 (the AIDS virus) on hard, non-porous, inanimate surfaces. 
Suitable for use in restoration, decontamination & remediation sites (fire, water, sewage, trauma scene) including residential, schools, offices, hotels,
health care
& food preparation facilities, hospitals, nursing homes, medical, veterinary & dental offices, health professional, chiropractic & physiotherapy clinics, child care centers, nurseries, sickrooms, restaurants, kitchens, cafeterias, food storage areas, fitness gyms, spas, zoos, barns & kennels.


Made from plant extracts with pleasant aromatherapeutic vapors. No synthetic fragrances, dyes, or bleach.


Proven to kill over 99.99% of the EPA's designated test microorganisms for broad-spectrum claims of hospital disinfectant effectiveness.


Suitable for disinfecting hard, non-porous surfaces (finished woodwork, laminated surfaces, sealed marble, and similar sealed stone or stone-like composites, painted or sealed surfaces, glazed tiles, metals, glass, fiberglass, plastic, vinyl, and similar polymers), such as: walls & floors, remediation equipment, PPE (Personal Protective Equipment), coils & drain pans of HVAC & R equipment, air conditioning & refrigeration equipment & heat pumps, shoes & boot soles, countertops, sinks, food preparation surfaces, toilet seats, pet habitats, garbage cans, children's toys, highchairs, changing tables, boat, airplane & train surfaces & cavities, prostheses & orthotics, foot spa surfaces, sports equipment such as jock cups & helmets and any other non-porous surface where bacteria or unpleasant odors are a concern. Effectively eliminates odors produced by odor-causing bacteria, fungi & other odor-causing organisms on concrete, wood framing &
studding
, trim & subfloors.
Clean, disinfect, and deodorize in one easy step!


The Benefect Story

On Video 
"HVAC sanitizing", Your Billings Air Duct Disinfecting Professionals.

 , furnace duct disinfecting,  duct sanitizing in billings